Startup Smart Lunches takes a bite out of boring school lunch


Taryn Plumb, Special to the Journal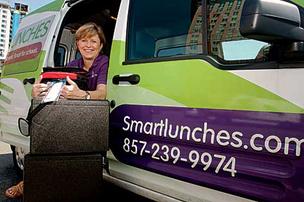 W. Marc Bernsau | Business Journal
Eunice Chapon knew she was essentially making the same small rotation of lunches for her son Jack — and that he was getting bored.
Then, a couple years ago, she heard about Smart Lunches, a company that provides lunches to participating students at Riverbend Montessori in Natick, Jack's school. Soon enough, he was enjoying chicken noodle soup, organic beef hot dogs and even quiche between his lessons.
"I have a very busy job, and mornings are such a scramble — getting out the door, getting everybody where they need to be," said Chapon, who lives in Natick. "It's nice to not have to worry about making lunch every morning."
And that's the dual purpose of Boston-based Smart Lunches: To make the midday meal simple, as well as healthy.
Founded in spring 2011, the company works with about a half-dozen caterers to provide healthy, fresh meals to students. The service is offered at roughly 150 schools, summer camps and day care centers in Massachusetts, New Hampshire and Pennsylvania, according to the firm's CEO, Emily Green.
Parents start by creating a profile for their child on the company's website, including where they go to school and any pertinent allergy information. They then place orders online, choosing from seasonal, 90-day rotating menus that feature, for instance, turkey and meatball sliders, veggie pasta salad, chili, or a Caprese sandwich with mozzarella, tomato and fresh basil. Dairy-free, egg-free, nut-free, gluten-free and other allergy-sensitive options are also available. The average price for each meal is $5 or $6, depending on the child's age, according to Green.
The company works with liaisons at each school who handle the daily delivery to students. "It's different than the way people normally think about school lunch — a tray and a cafeteria," Green said.
Recipes are developed in-house by an on-staff nutritionist and culinary director — with input from the caterers — and the company also does tastings with parents and students.
With 20 employees, the company was acquired by Shoebuy.com founder Scott Savitz in December 2011, and has also since purchased the healthy vending machine company Smart Snax.
The firm has raised $2.7 million in funding across two rounds, most recently a $1.6 million round in June. The funding came from Western Technology Investment, Romulus Capital and Data Point Capital (a venture fund founded and managed by Savitz), as well as angel investors including The Kraft Group president Jonathan Kraft and Adelphic Mobile co-founder Jennifer Lum.
Smart Lunches keeps a portion of the revenue paid by parents, and also passes some of the revenue to hosting schools. "Many of these schools are scrambling for every dollar," Green said.
The firm is not disclosing revenue figures, but Green says the service is now used by thousands of parents. Ultimately, she said, the school lunch business is "very broken" and in need of change.
"No one's happy with the quality of the meals, nobody thinks that they have enough fresh food, or that they're nutritionally balanced," Green said. "I think we have an opportunity to rethink the school lunch service. Our ultimate goal is to be national."
Original story link.